Mehr als 300 Nennungen gab es beim diesjährigen Snowbirds Nationals 2017 im Park Inn in Kissimmee. Am Start waren auch deutsche Fahrer wie Dominic Vogl und Jan Ratheisky, die sogar in mehreren A-Finals starteten. Mehr zum Rennen und die Ergebnisse in der englischen Version.
Englische Version
XRAY T4 double win at Snowbird Nationals 2017
The annual Snowbird Nationals was once again held at the Park Inn in Kissimmee, Florida. More than 300 entries in 10 different classes joined this event. The XRAY/RC America team was in full force in every category.
In 1/12 17.5T Stock, the competitive duo of Craig Xavier and Robbie Dodge were contenders for the higher qualfiying positions as always. Eventually, Craig would fall short of the TQ by just a couple of tenths. Tough luck in the final meant that Craig lost the early lead that he held, but he could eventually hold on to a strong runner up position in the end!
In the 21.5T TC Stock category, our Canadian team driver Luke Pittman put in a stellar performance as he drove himself onto the podium, in 3rd overall. Luke was working hard all week on his package and it paid off in the end!
The faster 17.5T Super Stock Category was won by Jan Ratheisky! Jan benefitted from a late tangle up that caused the leader Sam Isaacs to drop down the order. Robbie Dodge, who had been fighting with Sam for that TQ spot, would finish 2nd overall after a great drive! XRAY thus scored a strong 1-2 finish in this competitive category!
In 1/12 Modified, the rules had been changed to blinky mode with open motors. I struggled early on in the week, but after some hard work on my setup, I eventually managed to qualify 2nd on the grid. I continued to work on the car on main day, and I got it setup to where it was really competitive, as I could fight for the win with the leader for the whole 8 minutes. Unfortunately a small tap cost me valuable time in the pursuit of the leader, and I had to settle for 2nd place!
The premier TC Modified catergory was once again stacked with good drivers. After some extensive pre-event testing at Thunder RC in Nashville, TN, I had already found a very good basic setup once again for this new black carpet. I arrived in Orlando with a car that felt confident would work. As it turned out, my car just got better as the week progressed, with small fine tunings to cope with the increased grip. When you have a car that is this good, it makes your job a lot easier! I managed to win every round of qualifying, as well as the 5 minute main final, from tone to tone!

This all meant that I won the overall on-road championship for the 3rd consecutive time! I am very proud of my own and my team's results this past weekend! It was great fun on and off the track as always with this team, and I can't wait for the next time we're able to race together again! Special thanks to Drew, Paul and everyone at RC America that made this week a special one!
Result TC Modified:
1. Alexander Hagberg – XRAY T4'17
2. Sam Isaacs- Awesomatix
3. Keven Hebert- AE
4. Paul Lemieux – XRAY T4'17
5. Dominic Vogl- VBC
6. Hayato Ishiyoka- Kyosho
7. Drew Ellis – XRAY T4'17
8. Jan Ratheisky – XRAY T4'17
9. Josh Cyrul- Destiny
10. Chris Tosolini- WRC
Result TC 17.5T Stock:
1. Jan Ratheisky  – XRAY T4'17
2. Robbie Dodge – XRAY T4'17
3. Sam Isaacs- Awesomatix
4. Cory Parsons – XRAY T4'17
5. Martin Crisp- Yokomo
6. Craig Xavier – XRAY T4'17
7. Austin Wolfe- Serpent
8. Matt Lyons- Awesomatix
9. Drew Ellis – XRAY T4'17
10. Mark Burt- Awesomatix
Result 1/12 Modified:
1. Toto Ebukuro- Yokomo
2. Alexander Hagberg – XRAY X12'17
3. Hayato Ishiyoka- CRC
4. Keven Hebert- AE
5. Andrew Knapp- CRC
6. Kosuke Suzuki- CRC
7. Ray Darroch- Top
8. Dominic Vogl- VBC
9. Josh Cyrul- Destiny
10. Kazuki Yamashita- CRC
Result 1/12 17.5T Stock:
1. Ray Darroch- Top Rebal
2. Craig Xavier – XRAY X12'17
3. Joe Trandell- AE
4. Andrew Knapp- CRC
5. Dana Bailes- CRC
6. Robbie Dodge – XRAY X12'17
7. John Wiita- CRC
8. Takeshi Shinomiya- CRC
9. Andrew Mowery- Speedmerchant
10. Monti Panzica- Roche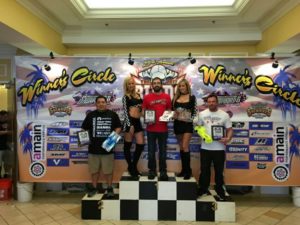 Result TC 21.5T Stock:
1. Mark Burt- Awesomatix
2. Monti Panzica- Awesomatix
3. Luke Pittman – XRAY T4'17
4. Bill Sydor- Awesomatix
5. Austin Wolfe- Serpent
6. Brent Klingforth- Awesomatix
7. Diatta Collymore- WRC
8. Brian Card- Awesomatix
9. Justin Lyons- Awesomatix
10. Cory Parsons – XRAY T4'17
Alexander Hagberg Set-up sheet T4: http://forum.teamxray.com/xform/index.php?act=view&ID=174&setup=t4_2017
Alexander Hagberg Set-up sheet X12: http://forum.teamxray.com/xform/index.php?act=view&ID=24&setup=x12_2017
Robbie Dodge Set-up sheet T4: http://forum.teamxray.com/xform/index.php?act=view&ID=172&setup=t4_2017
Quelle: Teamxray
Weitere Links