Team Magic hat nach einiger Entwicklungszeit nun den neuen E4RS4 1/10 Touring Car Version 2018 vorgestellt. Mehr Lenkung, mehr Kurvengeschwindigkeit, agiler und besserer Handling, dass soll den neuen Elektro 1/10 Tourenwagen ausmachen.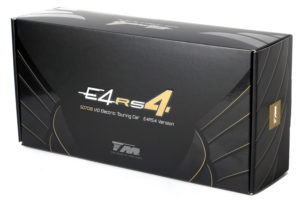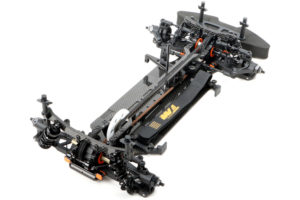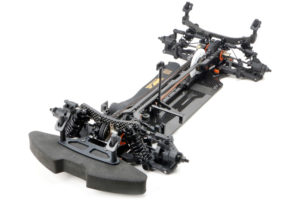 NEUES "Symetric Flex" Chassis
NEUES "Symetric Flex" Oberdeck
NEUE einteilige Motorhalterung
NEUE Versteifungsstrebe in der Mitte
NEUE untere Getriebegehäuse
NEUE Obere Getriebegehäuse
NEUE Aufhängungsteile zum Einstellen des Roll-Centers
NEUE Schwarz eloxierte Kugeln
NEUE Schwarz eloxierte Spurstangen
NEUE Starrachse mit "No-Blades" Outdrives
NEU "No-Blades" vorne  – Doppelgelenk-Antriebswellen
NEU Optimierte Lenkplatte
NEUE "Symetric Flex" floating Servohalterung
NEUE "Ultra Low CG" Dämpfrbrücken
NEUE "Ultra Low CG" Big Bore Stoßdämpfer
NEUE PRO Federn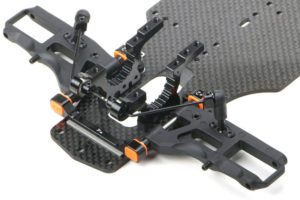 Englische Version
The all-new Team Magic E4RS4 1/10 Touring Car version 2018, developed by Team Magic Europe in cooperation with the european team and Team Magic Taïwan is now available !
E4RS4 All Black – 2018 Racing Specs:
After 2 years with the E4RS III and E4RS III Plus, and many successes, it's the time to switch to the E4RS4 !
Indeed, after the multiple places in ETS A-finale, and the numerous national titles obtained in multiple categories by the Team Magic drivers, we radically improved and revised our platform by creating the all new E4RS4 !
More steering, more corner speed, more agility, more predictable handling, for more and more success and victories !!
New 2018 specs parts:
NEW "Symetric Flex" chassis
NEW "Symetric Flex" upper deck
NEW "Symetric Flex" management
NEW One-piece motor mount
NEW Central layshaft mount
NEW Lower bulkheads
NEW Upper bulkheads
NEW High precision roll center adjusters
NEW Black anodized pivot ball
NEW Black anodized turnbuckles
NEW Front spool with "No-Blades" outdrives
NEW "No-Blades" front double-jointed driveshafts
NEW Optimized steering plate
NEW "Symetric Flex" floating servo mount
NEW "Ultra Low CG" shock towers
NEW "Ultra Low CG" big bore shock absorbers
NEW PRO touring matched shock springs
Designing the Team Magic E4RS4:
What adventure we lived there ! To create the Team Magic E4RS4 turned out to be a challenge as great as passionant. Strong from our great and fruitful passt experience of the developement of the Team Magic E4RS II Evo, E4RS III and E4RS III+ cars, Team Magic Taïwan gave the responsability to create and design the E4RS4 to Team Magic Europe. So, I worked hard on the conception of the car, while Jeremy Clavey, professional CAD draftsman, designed the parts. This first collaboration with has been extremelly professional and pleasant, and I deeply thank him for that.
The E4RS4 is the result of a long work of study, drawing and numerous discussions with the Team Magic drivers of whom I'm in charge of here in Europe, as well as very invaluable advice of a world level driver (top ten), further to the test the E4RS III+ in a intensive way last year. Each of them had the possibility to express their opinion, to suggest ideas and to talk about their experience. I thank all the drivers for their precious help, as well as for their results and involvement. In order to create the E4RS4, we studied in depth the weak points of the E4RS III+. We defined four axes of improvement to create the E4RS4. Lowering the centre of gravity and reducing the global car weight. Reducing the longitudinal flex. Optimising the torsionnal flex, as well as the "Symetric Flex" concept.
Improving the efficiency and stability of the settings.
So, all the central part of the car has been rethought: chassis, upper deck, bulkheads, position of them, motor and middle axle mount, servo mount and flex management. All this with the aim of improving an already very successful base, that was the E4RS III series. To close this introduction, I would thank once again the Team Magic drivers, of all levels; as weel as the staff of Team Magic Taïwan, and also Jeremy Clavey, for their collaboration which I appreciate quite particularly.
Lionel Troyon – designer of the Team Magic E4RS4
Seine Konkurrenten
Handel: 
 ,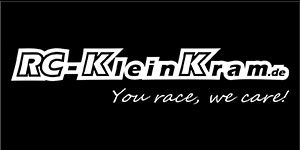 , 
 , 
  , 
 , 
, und Fachhandel.
Quelle: HRCDistribution
Weitere Links
#mikanews