Saison 7 der Euro Offroad-Serie startet an diesem Wochenende (20.-22.10.2017) in Warschau / Polen. Der amtierende 2WD-Champion Michal Orlowski strebt eine Wiederholung seines letzten Erfolges auf heimischem Boden an. Der Schumacher-Fahrer, der in der polnischen Hauptstadt lebt, holte das Doppel im vergangenen Jahr,  als Warschau Schauplatz von Round 2 des EOS war. In diesem Jahr kehrt Polen als Eröffnungsrennen beim EOS zurück.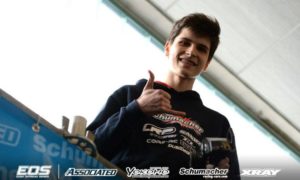 Interessant wird es für die zahlreichen Besuchern, die zur World Travel Show erwartet werden. Mit über 30.000 Besucher wird gerechnet.
Ihr Debüt beim EOS in Warschau feiern der ehemaligen 1: 8 Offroad-Weltmeister Ty Tessmann und Atsushi Hara.
Englische Version
Orlowski aiming to kick-off
new EOS season with home win
Season #7 of the Euro Offroad Series kicks off this weekend (20-22 Oct) in Warsaw,
Poland, with reigning 2WD Champion Michal Orlowski aiming for a repeat of his last
performance on home soil. The Schumacher driver, who lives in the Polish capital city, did
the double last year when Warsaw hosted the second round of the indoor carpet offroad championship going on to claim his inaugural EOS title win. With Poland returning as the opening race of the championship, Orlowski will be looking to capitalise on the energy of the race's large show crowd to get his title defence off to a winning start. Running as part of the World Travel Show, which is expected to be attended by over 30,000 visitors, the teenager knows that as champion he is the one everyone is out to beat. While already facing tough competition from Xray, Yokomo and Team Associated established driver line-ups, this weekend will see the high level of competition further bolstered by the additions of former 1:8 Offroad World Champions Ty Tessmann and Atsushi Hara as they make their EOS debuts.
As the driver who lost his back to back title reign to Orloswki, Lee Martin will be looking
to come back from a somewhat disappointing Season #6 campaign and start strong.
While the second most winning driver of all time in 2WD, the British driver failed to win
last season with the Yokomo team's only victory coming from Marc Rheinard when he
won the season opener at the Nurburgring. Joining Martin & Rheinard at Yokomo this
weekend will be all round RC legend Atsushi Hara. Having tested in the UK together with
Martin and Yokomo engineer Shin Adachi prior to flying out to Poland, Hara will be hoping he can impress on his first EOS appearance.
As back to back 4WD Champions, Xray showed at the back end of last season that they have made huge inroads with their 2WD programme with Bruno Coelho taking the TQ
and win at the season finale. The reigning 4WD Champion and openly not the greatest
fan of racing 2WD, Coelho now has two seasons of 2WD experience to work off and
would very much like to add a 2WD title to his already impressive list of achievements.
At the beginning of the month he did the E series triple crown adding the ENS title to his
ETS and EOS titles, winning 2WD is one of the few challenges thats has so far defeated
him. Alongside Coelho, Martin Bayer showed somewhat of a resurgence in form last
season and capped off the season with a win in 4WD. This weekend however a lot of
the interest in the race is going to be on Ty Tessmann. The Slovakian manufacturer has
brought over the Canadian and with a few days of testing at the Hudy Arena to prepare
for his EOS debut it will be expected that he will be mixing it with the regulars at the front.
Team Associated are backing experience and youth in the form of former World
Champion Neil Cragg and rising star Joona Haatanen. Finishing 5th and 4th respectively
in the 2WD standings last season, they will be targeting better results this year. Cragg
has a full season of EOS under his belt now and Haatanen laid down a marker at the
penultimate round when he took the 2WD TQ at Arena 33.
Quelle: Oisin O'Briain – www.eurooffroadseries.com
Weitere Links
#mikanews