Usukani hat ein neues RWD Drift-Chassis Kit entwickelt, welches Ende Dezember 2017 auf den Markt kommt.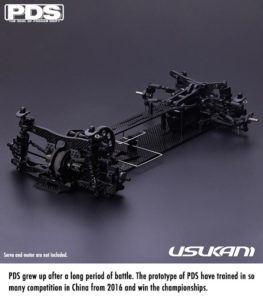 Technische Daten:
Artikel Nr. 88180
Maßstab: 1/10
Gesamtlänge: 345mm
Breite: 195 mm
Radstand: 256 mm
Übersetzungsverhältnis: ca. 10,77
Gewicht: ca. 450g (nicht inklusive Felgen-, Reifen-, Karosserie- und EP-Teile)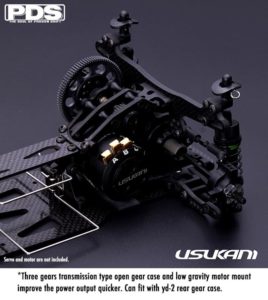 Features:
70% Teile des PDS sind Carbon Material (inklusive Chassis 2.5mm, Oberdeck 2mm, 4 mm Dämpferbrücken vorne und hinten etc)
Niedrigee Schwerpunkt der Motorhalterung
Drei-Gang-Getriebe
Allrad-Einzelradaufhängung
Aluminium Lenkhebel
Aluminium-Radträher hinten
Hinterer Querlenker aus Aluminium und Carbon (3mm)
Open-Typ Vollcarbon Getriebegehäuse (kann yd-2 passen)
Aluminium-Aufhängungsträger einstellbar (kann yd-2 passen)
Akkuhalter aus Edelstahl mit originellem Design zum schnellen Ausbau.
Lenkung kann schnell eingestellt werden.
49 mm CVD`s hinten (kann yd-2 passen)
Karosseriehalterung in sechs Längen
4mm 7075 Aluminium-Radaufnahme (breit)
Inklusive 48P 87T Zahnrad und 48P 21T Ritzel
Englische Version
*Limited Qty for first release
*Item No.us88180
*Estimated Time For Sale: End December
*Accept Pre-order now
Pls contact with Usukani agents for Pre-order.
Specifications:
Scale: 1/10
Overall length: 345mm
Width: 195mm
Wheelbase: 256mm
Gear ratio: approx 10.77
Weight: approx 450g(Not included rim, tire, bodyshell and EP parts)
Features:
*70% parts in PDS are carbon material.(Included chassis 2.5mm, upper deck 2mm, F & R shock tower 4mm etc)
* Low gravity motor mount design
*Three gears transmission structure
*Four-wheel independent suspension
*Aluminium alloy shock set with plastic stock tubes
*Aluminium alloy front knuckle(KPI adjustable,can fit MST calipers)
*Aluminium alloy rear hub(deviation multihole design, can fit MST calipers, can fit yd-2 rear hub)
*Front lower arm special for RWD(3mm)
*Rear lower arm made of Aluminium alloy and Carbon(3mm)
*Single-arm fixed type front upper arm
*Open-type full carbon gear case(can fit yd-2)
*7075 Aluminium alloy Integrated Rear Solid Axle Set(can fit yd-2)
*Aluminium alloy adjustable Suspension Mount(can fit yd-2)
*Original design swift dismounting battery holder made of 316 Stainless steel.
* Servo direct output steering system special for RWD.
* Steering system can be swift adjustment.
*49mm Rear CVD(can fit yd-2)
*Six length body mount
*4mm 7075 Aluminium alloy Clamping Wheel Hub
*316 steel Limit Arm For Knuckle
*Included 48P 87T spur gear and 48P 21T pinion gear.
Quelle: Usukani
Weitere Links
#mikanews