Wer es nicht abwarten kann, dem sei mitgeteilt, dass Ollie Payne der neue EFRA-Europameister 1/12 Stock ist und Alexander Hagberg seinen Titel in Modified verteidigen konnte. Ergebnisse gibt es bei MYRCM.
Qualifying
Ollie Payne schnappt sich die Pole-Position vor Michal Orlowski in Stock. In Modified sieht es nach einer Titelverteidigung aus. Alexander Hagberg startet von 1 vor Olly Jefferies und Ollie Payne.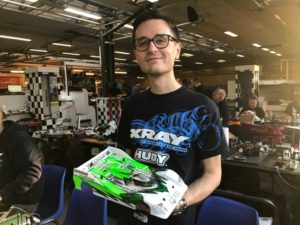 EC 1/12
Alexander Hagberg – Xray
Olly Jefferies – Xray
Ollie Payne
Michal Orlowski — Schumacher
Markus Hellquist
Markus Mobers – CRC
Marc Stilles
Hubert Hönigl – Xray
Alexandre Laurent
adam catchpole
1/12
Ollie Payne – Roche
Michal Orlowski — Schumacher
Olivier Bultynck
adam catchpole
Markus Mobers
Tim Altmann
Arnaud Lemperiere
Mark Stiles
Hubert Hönigl
Alexander Andersson
Englische Version
Stock
Having taken the opening round of qualifying on Friday night, Michal Orlowski was in a great position to try and consolidate in round two held on Saturday morning – but Ollie Payne had other ideas and set out from his second starting position and immediately started pressuring Orlowski. Michel seemed to be resisting the pressure and edging away till a small mistake let Payne through into a lead he would never relinquish. With the track being at its fastest during early on this put Ollie in a great position should he require a tiebreak later.
Ollie backed up his fastest time in round two with another in round three, confirming a front row start for the A final, with Michel just over one second behind at the end of the run, confirming that the battle for pole position would be between these two, even if it was mathematically possible for another driver to achieve, such was their pace advantage over the field.
An early stop to resolve a slipping diff dropped Ollie out of contention in round four, opening the door for Michel to take the round and join Ollie on two round wins each, thus also confirming his place on the front row.
Into the final round then, with Orlowski needing to set a faster time than Payne's round two time to secure the pole position. It soon became clear that Ollie intended to make that academic , as he stormed away at the start of the heat and was never headed throughout, crossing the line to secure the pole position from Michel.
Modified
Over in Modified, Alexander Hagberg had signalled his intent with the fastest time by some seven seconds in round one from Olly Jefferies, though Olly had a small mistake early on which cost him a couple of seconds. Round two saw Alex reinforce his advantage taking another round win while the track was at its fastest.
A rare mistake from Alex in round three opened the door for Olly to take the round win and give himself a chance for the overall pole position. Critically, it also allowed Ollie Payne to take second in round, which would be of benefit later.
Alex redressed the balance in round four, breaking away from the start and taking the win from Olly, guaranteeing a front row start for the finals.
Into the final round then, with Olly needing to win the round and beat Alex's round two time to secure the pole position. An accident for Alex at the of the straight on lap one gave Olly the opportunity, but with the pace of the track having slowed there was no opportunity to beat Alex's earlier time, securing the TQ for Alex with Olly in second on the grid.
Weitere Links
EFRA European Championship EC 1:12 2018 in der Racing Arena Limburg
#mikanews