Die Italienische Nationals wurden letztes Wochenende in Fontanellato ausgetragen. Das Wetter war perfekt, heiß und so konnte ein tolles Rennwochende gestartet werden.
---
---
Englische Version 
Race report by Alessio Menicucci
Italian Nationals were held in Fontanellato last weekend. Weather was perfect and temperatures were very high so everything was looking for awesome weekend!
Modified:
This race was very tight between Gabriele Berselli and me. Gabriele won first two qualifications and I won the last two. Thanks to better time Gabriele got the overall TQ, I was 2nd and Alessio Tolomelli 3rd. Finals were thrilling and full of a fair show. I won first final passing Gabriele in one of the last laps! In the second final, I did a mistake and Gabriele took easy win. In the last final Gabriele did a mistake which allowed me to pass him and take the overall win! Alessio Tolomelli, Fabrizio Manicardi and Luca Torreggiani were fighting all finals with nice overtaking! At the end was Fabrizio to get the podium! Good job Fabrizio!
1/10 TC Modified Results:
Alessio Menicucci – XRAY T4
Gabriele Berselli – XRAY  T4
Fabrizio Manicardi – XRAY  T4
Alessio Tolomelli
Luca Torreggiani – XRAY  T4
Andrea Baroni – XRAY  T4
Silvio Boni
Alessio Mota
Claudio Sassi – XRAY  T4
Enrico Avoni – XRAY  T4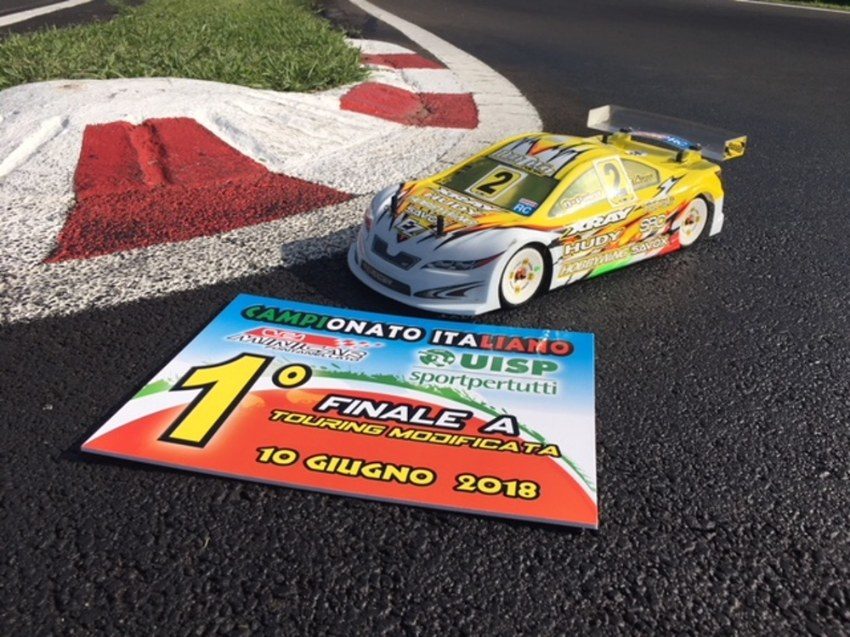 Rookies Results:
This Class was a new for this event and it was very nice to see small children racing, that is our future! Alex Cresti took the overall TQ, followed by Alberto Rossetti and Lorenzo Tagliatti.
After the finals, TOP 3 remained the same!
Alex Cresti – XRAY  T4
Alberto Rossetti – XRAY  T4
Lorenzo Tagliatti – XRAY  T4
F1 Results:
Alessandro Arisi dominated qualifications of F1 Class, followed by Gian Franco Bola and Valerio Stagni. After three tight finals Alessandro was able to confirm his leadership and took the win!
Alessandro Arisi – XRAY X1
Guido Carbognani
Valerio Stagni
13.5 Blinky Results:
Davide Campanini got the overall TQ in this Class, followed by Guido Carbognani and Luca Giovannoni. Davide confirmed that in finals and took the overall win!
Davide Campanini
Luca Giovannoni
Guido Carbognani
Luca Tramelli – XRAY T4
Pan Car Results:
Marco Donadelli was the leader of Pan Car class. After qualifications he was 1st followed by Vincenzo Zangari and Yuri Tagliatti.  Marco then took the overall win but it was Michele Rossetti who made the biggest progress and took 2nd place!
Marco Donadelli
Michele Rossetti – XRAY X10
Vincenzo Zangari
Yuri Tagliatti – XRAY X10
Emanuele Cresti – XRAY X10
Quelle: teamxray
Weitere Links
#mikanews