Der neue Agama A319 wurde vorgestellt mit vielen Neuerungen. Leider fehlen noch die Bilder vin der neuen "Rakete", wie das Fahrzeug in Deutschland genannt wird.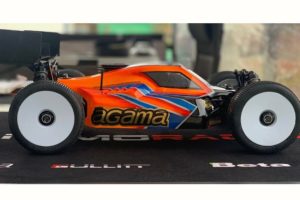 ---
Nemo Racing USA hat das Fahrzeug vorgestellt. Hier die originale englische Version:
AGAMA A319 BUGGY KIT – $599.00
PRE-ORDER Expected end of June. 
The AGAMA  Nitro Buggy is the culmination of years of design, development and dedication with over 50 years of racing experience it is set to push the field of 1/8th nitro racing !  The new buggy platform takes all of the great attributes that is synonymous with the Agama brand, high quality materials and forward thinking designs. The SV buggy was a huge step forward from the A215 and the new buggy is a bigger step again for both club level drivers and world class racers ! When the new buggy was on the drawing table there were key changes to be achieved and this has all come together in a superb all new platform !  The ease of maintenance on the buggy has been hugely improved along with the ease of driving at a fast pace ! The new buggy Features and Designs are listed below:
– Chassis – The new buggy chassis plate features a new shape at the front and rear, the rear has more torsional flex whilst still remaining longitudinally stiff, the front of the chassis has also been more angled to offer better clearance from the tyre at full lock as well as more roll clearance in long sweeping turns. The chassis is also narrower to provide a lower overall weight whilst keeping the overall width and driving characteristics associated with that. The chassis also no longer has the holes in the bottom of it, because the gearboxes are now mounted higher.
– Radio Tray – A entirely new radio tray makes for better servo position, more room in the boxes for all of the electrical equipment as well as a quicker and easier removal of the radio tray and servos.
– Split centre diff mount – A split centre diff mount is now used, the diff is now rotated with the spur to the back and a new brake linkage system is used for more consistent braking throughout a run.
– Drivetrain – There is a new drivetrain used throughout the new buggy, new 39T Crown gears mate up to new 12T pinion gears, this makes the buggy easier to drive with more corner speed, a smoother more efficient transmission and a class leading durability. A new 48T spur gear and 13T clutch bell are used to maintain the correct final drive ratio.
– Lightweight one piece rear wing mount – A new lightweight one piece wing mount has been utilised it offers more durability and a lower centre of gravity whilst also allowing for more tuning options with a range of height adjustment where it mounts to the rear shock tower.
– Shock towers – With the new front and rear geometry, new shock towers have been used that give the optimum shock length for all conditions and the new rear tower has the various wing mount height holes.
– Wishbones hangers – New A/B/C/D blocks are used on the new buggy they offer updated roll centre and anti squat positions more optimised for the new geometry that is presented throughout the new buggy.
– Steering Posts – New longer steel steering posts are used, this is for compatibility with the new raised front gearbox and steering assembly.
– Steering Top Plate – A new composite steering top plate as been produced in line with the new steering post positions on the chassis plate as well as the new raised front gearbox.
– Chassis Braces – New chassis braces are used with a single chassis mounting point on both the front and rear, a secondary rear brace is also included in the box for a further reduction in chassis flex.
-Fuel Tank – A new fuel tank has been made with a lower and wider shape for lowered centre of gravity and it also now has a higher capacity that is in line with the legal specification.
-Bodyshell – New nitro body shell, for better durability, performance and to fit to the new chassis shape.
-Chassis side Guards – The chassis side guards have a new shape and height for better protection from the ingress of damp and dust and they will now fit the new chassis shape. They also now use a wraparound design for even better protection in all racing conditions.
-Caster Block – A new 17.5 degree composite caster block is included in the box
-Steering Plates – New steering plates are used to change the Ackerman of the buggy, making it easier to driver and more rotation on low speed and smoother at high speed.
New Parts List A319:
57220 Front shock tower (Updated from Performance Pack)
57221 Rear shock tower (Updated from Performance Pack)
37001 Chassis
497175 17.5 Degree composite caster block
38225 Steering Posts Steel Material (Updated from Performance Pack)
2009 Front steering top plate
39063S Steering Rack Plate Short
31011D Steering Hub Plate (double SV/DW01)
2009 Front/Rear Chassis Braces
47201/2/3/4 – A/B/C/D blocks (Performance Pack)
8939/8839 Crown gears (optional gearing)
8912 Pinion gears (optional gearing)
8848 Spur (optional gearing)
8013 Clutch bell (optional gearing)
28219 Front Drive Cup (Back to 28219 F+R)
28243-L3 Dogbone Drive Cups
38317-78 Front Dogbone Driveshaft
38317-109 Rear Dogbone Driveshaft
2001 Fuel tank
34908 Full radio tray
2014/37207/38233 Centre diff mount/top plate and all respective items
30012 Body-shell
31017 Side guards
31006 Rear wing mount (Performance Pack)
Steering Links
1004-SR/1004-SF Gearbox Spacers – Front and Rear

 

(Performance Pack)
31019 Steering Plastics (Bellcrank)
SKD Droop Screws
Items that are carrying forward from A215SV
Suspension Bushing Inserts

 

(21116-B)
Diff Outdrives (now 28219 only)
Diff Cups (28228)
Hinge Pins Inner/Outer (38227/8238)
Front hinge pin (32239F)
Wishbones Front/Rear (21003/31002-S)
Camber Links
Turnbuckles
Gearboxes Front/Rear (1004/21005)
Driveshafts Front/Rear (34902/24902)
Rear hubs (21010)
Caster block will be compatible (39716)
Steering hub (31011)
Shocks

 

(24911)
Engine mounting/clutch assembly
Wing (1901)
Brake Disks (8009)
Internal Diff Gears (4118)
Roll Bars

 

(28023/8325)
Quelle: Nemo-Racing USA
Weitere Links
#mikanews