In der tollen Modellsportanlage der Titan RC Arena in Waschau / Polen fand am 31.10.2020 das erste Rennen des Milansport Xray Race statt. Insgesamt sind 5 Rennen geplant, wobei in diesem Monat schon Lauf 2 auf dem Programm steht. Mehr zum Rennen hier in der englischen Version.
Englische Version
Race report by Michal Milanowicz
On the 31.10.2020 at the Sweet track in Titan RC Arena in Warsaw Poland was held the first round of Milansport XRAY Race. It is a racing series made by one of our team drivers Michal Milanowicz.
A dream of making his own racing series is coming true and giving the drivers from Poland a high level racing series they deserve.
The race is dedicated for on-road classes and on the first round there was 5 of them.
---
---
1/12 class was a nice to watch race where a young talent Julek showed some great technic and speed on the track. The TQ went to Arkadiusz and Julek had to start from 2nd spot. But during the fights there been some mistakes and contact. Every Final was a great show.
1.            Julek Laskowski – XRAY X12
2.            Przemyslaw Cygan
3.            Arkadiusz Smyk
4.            Kuba Krus – XRAY X12
---
---
F1 class was fun to watch as the drivers had to fight with the grip and finding the best driving line. Adrian Lippich took the TQ and turned it into a victory in front of Michal who was trying to pass Adrian with all he had.
1.            Adrian Lippich
2.            Micha? Bugajski – XRAY X1
3.            Mateusz Tutaj – XRAY X1
4.            Sebastian St?pniak – XRAY X1
---
---
TC Stock was the biggest group on the event. With 12 drivers we had to make two finals with 7 and 5 driver according to the covid-19 safety. So in A-main we had 7 driver where the biggest fight was between the TQ runner Przemyslaw and Mateusz. These two drivers showed some great speed in stock class and how important is a good driving technic.
1.            Przemyslaw Wicher
2.            Mateusz Bania – XRAY T4
3.            Michal Bugajski – XRAY T4
---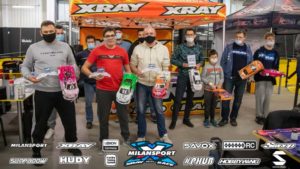 ---
Quelle: teamxray