Die Schumacher Eclipse-Autos sind die derzeit amtierenden IFMAR-Welt- und EFRA-Europameister im Maßstab 1:12, sowohl in der Modified und auch in der Stock-Klasse.
Dennoch hat Schumacher Racing Products das Fahrzeug verbessert und das Ergebnis ist der Eclipse 5.
Das Eclipse 5 ist das ultimative professionelle LMP12-Rennchassis-Kit. Die Wahl der Champions.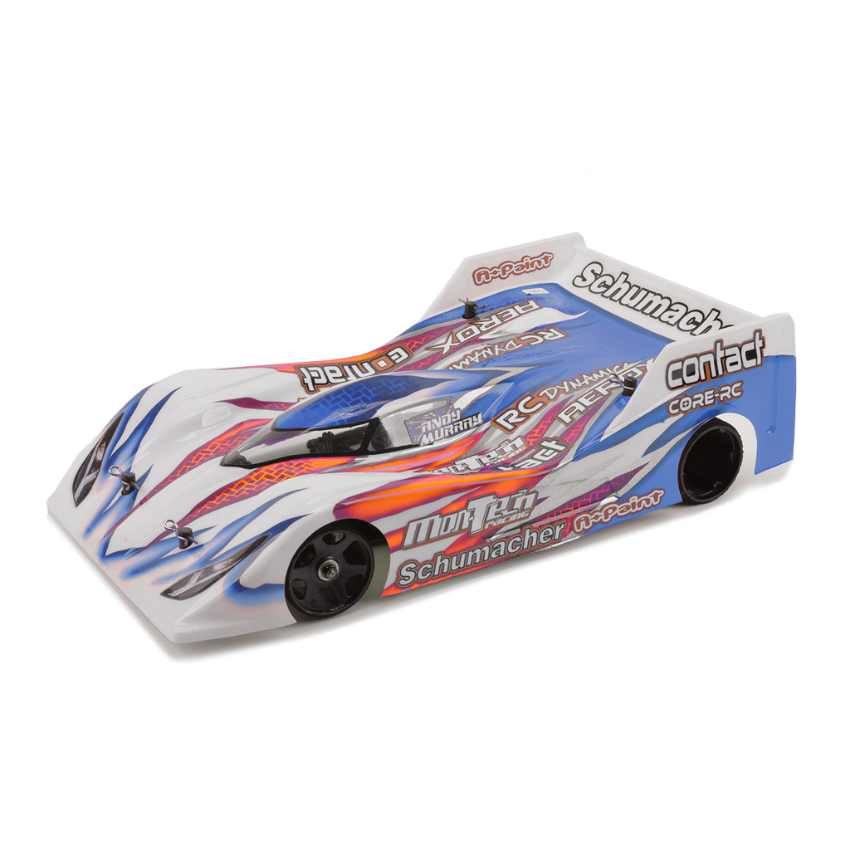 Englische Version mit den Features:
The Schumacher Eclipse cars are the current reigning 1/12th scale IFMAR World and EFRA European Champions in both modified and stock classes.
The New Eclipse 5 features a extensive list of refinements, making it even faster and better handling.
The Eclipse 5 is the ultimate professional LMP12 racing chassis kit. The choice of champions!
NEW – Alloy chassis design with a much shorter overall length. This allows for reduced chassis scrubbing along with a significant weight reduction from beyond both front and rear axles. These benefits allow the car to enter a corner more effortlessly and when in the corner, rotation is achieved more freely.
NEW – Upgraded left and right rear hex wheel clamps to prevent any wheel wobble issues. Now perfectly true running wheels with our unique single nut rear wheels/solid axle!
NEW – Servo mounting has been improved, resulting in direct mounting for the Sanwa micro range of servos such as the PGS-HR and SRG-HR. Direct and easy alignment onto the centre of the car. In doing this the chassis flexibility characteristics have been vastly improved, for performance and strength, by removing the large, off centre transverse slots previously used. All other brands of servo still can be used with the ultra-lightweight floating servo mount, included.
NEW – Lightweight and flexible 3D printed rubber bumper, offering perfect body shell protection. Compared to the previous foam bumper, it is also very durable and long lasting.
NEW – Black aluminium steering turnbuckles now included. Stealth and lighter weight.
NEW – Updated top decks design, further reducing the polar moment of inertia. They now secure at the front within the wheelbase.
NEW – The front lower beam has been improved, mounting in line with the front axle, and further reducing this forward weight, allowing for the reduced chassis length. The new beam makes use of super easy, slide in, speed secret ride height spacers. 0.5mm U7920 and 0.75mm U7921.
NEW – Independent and lightweight front bumper mount makes front end assembly far easier. The front bumper can now be removed with only 2 screws.
NEW – Moulded lighter weight front hub carrier design with much improved suspension action and damping characteristics. Un-sprung mass has also been reduced.
NEW – Tweak free and easy LiPo mounting using new lighter weight O-ring fixing.
NEW – Interchangeable front LiPo position stops with 4 equally spaced settings included.
NEW – Optional 1.0° camber strap option available. 1.5° camber is included in the kit for maximum steering and lap time in most conditions.
NEW – Pod offset has been refined to achieve the perfect pod balance with a wider range of modern motors.
NEW – Lightweight pod carbon parts for lower centre of gravity and overall car weight.
NEW – Underside Variable Chassis chamfers, offering improved ground clearance, smoother scrubbing and better clearance to curbs or other corner markers.
Not forgetting all the usual features that have made the Eclipse IFMAR World and EFRA European Champion.
– Range of optional colour coded front springs.
– Big Bore side and centre dampers offering long lasting damping. They also give great damping oil retention (less frequent maintenance required) and a compact and central design. Damper geometry changes have improved damping characteristics.
– Lightweight pod assembly for smoother, more predictable drivability and bump handling. Strengthened for tweak prevention.
– Lightweight Low Centre of Gravity CNC Alloy Motor Mounts.
– Rear ride height adjusters, easier adjustment and 0.25mm height increments.
– Front beam socket using O-ring fixing system.
– Thread insert design making work on the car much quicker and simpler.
– Easy body shell height adjustment.
– Extra low rear roll centre pivot height for awesome rear traction.
– Centre pivot design for easy build and maintenance, with a fully bind free design.
– All black nuts as standard.
– Perfectly balanced rear pod assembly.
– Ultra-low motor position.
– Full range of colour coded rear and side springs.
– Separate springs for independent roll and bump stiffness adjustment.
– Ball bearing front and rear axles.
– Adjustable toe-in/out.
– Chassis balance pivot holes. For use with U3582 Precision Balance Pivot Set. (Available Separately) To optimise left/right weight distribution.
– Rear tweak adjustment via side springs.
– Simple rear droop adjustment.
– Small Kimbrough servo saver with stiffener included as standard.
– High tensile steel hex screws used throughout.
– High quality easy to follow instruction manual.
– Range of World Championship Winning Contact RC foam tyres available.
– Accepts a huge range of industry standard body shells, motors, LiPo's and speed controllers.
– Suitable for USA rules GT12 racing.
Pre-Orders being taken – Due Late January 2023 
K203 – Eclipse 5 – 1/12th Circuit – Kit
Quelle: Schumacher Racing und  CS-SHOP