In England gab es das zweiten Rennen der Offroad National Championship. Davon berichtete Racewayone.Hier der Bericht (Englisch):
On the weekend on May 20 & 21, the BRCA 1/10th Offroad National Championship descended on the British seaside resort of Weston-Super-Mare. The Mendip Raceway played host to the fully subscribed event which marks Round 2 of this year's ultra-competitive series. The track has not hosted a National Round before and some competitors had reserves about the size of the small track, but Mendip is definitely a big thing in a small package and all the comments by the end of the weekend were very positive.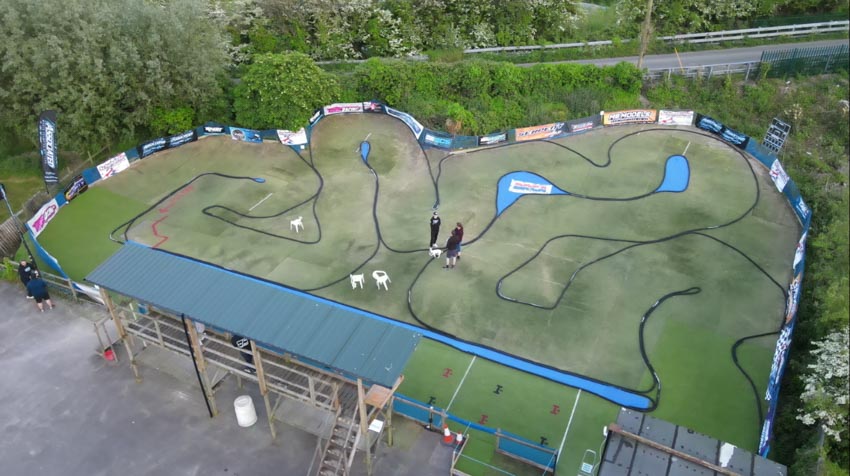 All drivers were given 2 x 3 minute practice sessions first thing on Saturday morning for the 2wd section of the meeting and the track was quite loose as a new layout had been put down which reintroduced sand onto the racing line. Tommy Hall was fastest out of the blocks over three consecutive laps in Round 1 of practice and he nearly did it again in Round 2 of practice only to be outpaced by brother Jamie. Both drivers seemed to have successfully developed very forgiving setups on the bumpy track whilst other drivers cars seemed to crash and hop through the undulations. Edward Callan was best of the rest in practice on a time very similar to both Halls – his form for the weekend was looking good.
The Hall's built on their practice pace throughout qualifying. Tommy Hall secured TQ in rounds 1, 3 & 4 to put his car on pole position from the A Finals. Round 2 was TQ'd by Neil Cragg who had not benefitted from a test on the track prior to the event and was still fast enough to go 2nd overall. Josh Holdsworth was visually as fast as both Hall and Cragg and nobody was surprised when he secured 3rd on the grid.
By the time Leg 1 of the 2wd A Final was due, most people had realised that this track design did not lend itself to overtaking. Instead, the challenger would have to pressure the leading car into a mistake – something that could happen very easily on the bumpy surface. The race got off to a fast start – Tommy Hall leading with Cragg and Holdsworth close behind. There was a clear difference in how Hall's and Cragg's cars were handling. Hall's was smooth over the bumps with a little understeer and lower forward driver. Craggs had positive steering and less side bite at the rear. On average both cars had the same pace, but Cragg would catch Hall in sections of the track and would then lose time to him in other areas. The battle between the two was close until about 90 seconds in, when Cragg tagged a hose and dropped back – now having to defend from Josh Holdsworth. For the following 4 laps, Cragg pushed on hard to catch back up with Hall – Holdsworth matching his pace in third. However, the challenge would be cut short when at the three minute mark, Cragg had a rear left suspension failure which instantly retired him from the race. This gave Tommy Hall a 5 second advantage over newly promoted Josh Holdsworth in second and the race ended that way. Ben Pugh taking 3rd.
Leg 2 of the 2wd A Final got off to a different start. Cragg with the bit between his teeth drew up on the back of Hall's car without delay. Josh Holdsworth leading the chasing pack and under pressure from Ben Smith. During lap two and three, Holdsworth found some incredible pace to break away from the pack and chase down the leading duo. Whilst Hall and Craggs car looked low on forward traction, Holdsworth car was leaping out of the corners. Hall, Cragg and Holdsworth ran for several laps with a dozen metres or so between them. Cragg briefly getting within striking distance to Hall with about 90 seconds to go, but the challenge was very short lived. The final order Hall, Cragg, Holdsworth.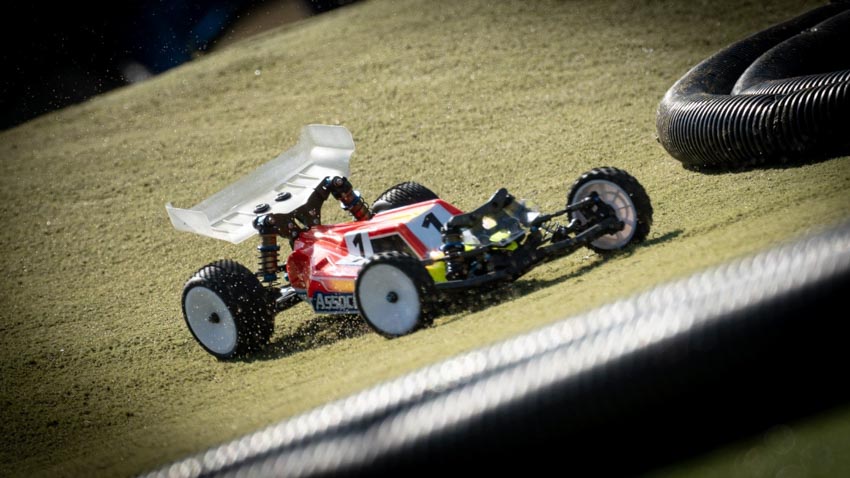 With a win in Leg 1 and Leg 2, the 2wd meeting was now Tommy Hall's. Leg 3 would settle the other podium positions. Leg 3 started off in frantic circumstances as several of the cars further back in the field jostled for position. Neil Cragg started to build his advantage at the first opportunity – slowly pulling away from the remainder of the field lead by Josh Holdsworth with Ben Smith close behind. With two minutes down, Cragg had a substantial lead. Holdsworth in second rolled on the banked corner, which led Ben Smith through to the position and he was marshalled just in time to get back on track ahead of Lee Martin. Holdsworth didn't take long to draw back up to the back of Ben Smith – catching is one thing, passing is another. The two entered into a battle of cat and mouse for several laps, with Lee Martin pushing hard to get involved. Smith and Holdsworth both made a catalogue of small errors, but neither got an advantage over the other. Finally, a mistake from Holdsworth let Ben Smith away and Lee Martin through also. The win for Cragg in Leg 3 by 8 seconds with Smith in 2nd, Martin in 3rd.
| | | | |
| --- | --- | --- | --- |
| 1 | 1 | Tommy Hall | 2 [ 1 1 10 – 16/ 309.52 ] |
| 2 | 2 | Neil Cragg | 3 [ 10 2 1 – 16/ 311.24 ] |
| 3 | 3 | Josh Holdsworth | 5 [ 2 3 4 – 16/ 314.37 ] |
| 4 | 4 | Ben Smith | 6 [ 5 4 2 – 16/ 319.40 ] |
| 5 | 6 | Ben Pugh | 8 [ 3 5 8 – 15/ 302.08 ] |
| 6 | 5 | Lee Martin | 10 [ 7 7 3 – 15/ 300.43 ] |
| 7 | 7 | Luke Holdsworth | 10 [ 4 6 6 – 15/ 304.26 ] |
| 8 | 8 | Jamie Hall | 11 [ 6 8 5 – 15/ 301.64 ] |
| 9 | 10 | Charlie Saunders | 16 [ 9 10 7 – 15/ 306.49 ] |
| 10 | 9 | Edward Callan | 17 [ 8 9 9 – 15/ 311.29 ] |
The 4wd portion of the meeting was eagerly anticipated as the 2wd had been so good. This year the 4wd section is fully booked – something we normally only see for 2wd – a total of 120 drivers and unfortunately lots of people on the reserve list. Chatting to some of the drivers at the start of practice the general opinion was upbeat and excited at the 4wd cars won't suffer from the initial traction issues the 2wds had – this should produce some close racing.
The morning started off in glorious sunshine with a cool westerly wind keeping most drivers in their jackets. Practice got underway and straight away Jamie Hall made his mark going fastest closely followed by Lee Martin and Charlie Saunders. In round 2 of qualifying a new protagonist emerged in the form of Neil Cragg going fastest with another good performance from Jamie Hall in seconds and Tommy Hall in third. The teammates locking out the top three going into qualifying.
Tommy Hall continued his 2wd form to take TQ in Round 1 & 2 of 4wd qualifying. Again, Tommy's car looked really good over the undulating surface.  Neil Cragg and Ben Smith were also at the sharp end and at one stage it looked like they would be Tommy's main rivals. That was until round 3 when Jamie Hall put in a clear run to take TQ and then he did it again in Round 4. Jamie's with the fastest time secured pole position for the A Finals. With the Hall brothers up from, it would be up to Cragg in 3rd, Smith in 4th and Martin in 5th to challenge them.
The 4wd finals were quite exciting with lots of close racing. Prior to the start of Leg 1 of the 4wd A final there was a very unusual occurrence when the front tyres on Neil Cragg's car were displaced on the warm-up lap – possibly they were not glued at all. Quick action from Mick Cragg and Chris Boden meant that the race was ready to go two minutes later with new front wheels installed on Cragg's car – just enough time for a Mexican wave to develop amongst the patient spectators. The race started in good order till Tommy Hall had a slow roll after climbing the mountain portion of the track opposite from the rostrum dropping him to 9th. The incident promoting Ben Smith to second with Neil Cragg in a close third with only 45 seconds done. Jamie Hall now had a significant lead – initially 2.2 seconds over Smith with Cragg a split second further behind – and not far behind Cragg was Mathew Peters in his first National A Final. Peters was not the only first time A finalist – 12 year old Daniel Pole also making it to the A Final – very well done to both. With three minutes down, Hall had increased his lead to 2.5 seconds over Smith and Cragg – testament to how close the pace of the top three drivers was. With a minute to go, the tables had turned and Smith was closing the gap to Hall – now only 1.7 seconds as he busily fended Cragg off. Very little occurred over the remaining 90 seconds – the final order J Hall, Smith Cragg.
4wd A Final Leg 2 started off smoothly and by the end of lap 2 there was a break-away group of 6 car – J Hall, T Hall, Smith, Cragg, Martin & Peters. With a minute down, the first mistake of the race was by Ben Smith – clipping the hose coming onto the straight and dropping to 6th. At the front, Tommy Hall was pushing on hard in an attempt to put his brother under pressure. His car was well up on two wheels several times as he took every chance possible to close the gap. A couple of laps later, Neil Cragg repeated Smiths error which set him and Lee Martin up for a drag race down the straight – Cragg successfully retaining the 3rd position into the first corner. Just after the two minute mark, Jamie Hall in the lead oversteered at a long hairpin on the right side of the track and briefly put two wheels up on the hose. This was Tommy Hall's chance and he passed into the lead. At the midway point the race was on! The order – T Hall, J Hall, Cragg, Martin, Peters, Smith. Jamie was quick to recover and to get onto Tommy's rear bumper. Tommy's car was slower off the straight and through the first double apex bend. This allowed Jamie to line up a move up Tommy's inside, but he carried too much speed and hit a bump hard causing the car to fly pass the apex. This allowed Tommy, who had fundamentally lost the position to nip in and reclaim the lead – very exciting racing to watch! For the remainder of the lap, Jamie was looking left – looking right for his opportunity and before he got it he clipped the hose and rolled coming onto the straight dropping him to fourth behind Cragg and Martin. All this action with only 3 minutes down. For the final 2 minutes the lead four cars spread out a bit and there was no more close racing. Tommy Hall brought it home for the leg win – Cragg 2nd, Martin 3rd, Jamie Hall Fourth.
Leg 3 of the 4wd A Final was an exciting race. With Jamie Hall and Tommy Hall having a win each all eyes were on those two. Ben Smith was the first to disorder the leading group with a champions roll up at the top right of the track only dropping one place to 4th and letting Cragg through. With two minutes down Tommy had drawn right up to Jamie's back bumper with Cragg making serious gains into their advantage in third, but nobody close enough to make a move. The top three cars then engaged in a nail-biting game of cat and mice. Who was going to be first to buckle under the pressure? At the four minute mark there was nothing between the top three – in fact Neil Cragg in third had to divert off line in some of the braking zones as not to collect both of the Halls at the Apex. A few small touches of hoses from Jamie further bunched the top three – we could not tell where one car ended and the next one started it was that close. With 20 seconds to go, Tommy Hall in second touched the hose on the corner coming onto the straight which had caused several issues in the finals so far. As the top three were in such close proximity, Neil Cragg had nowhere to go and he collected the unsettled Tommy Hall. Hall eventually landed on his wheels and continued, but Cragg's car was left isolated and on its back in the middle of the straight needing the marshal. This promoted Martin to second, Tommy Hall recovering to third, Ben Pugh to four and Cragg to fifth just ahead of Ben Smith. This was the final lap and Jamie Hall brought it round to secure the leg, and his first 4wd National win.
| | | | |
| --- | --- | --- | --- |
| 1 | 1 | Jamie Hall | 2 [ 1 4 1 – 16/ 303.00 ] |
| 2 | 2 | Tommy Hall | 4 [ 5 1 3 – 16/ 305.94 ] |
| 3 | 5 | Lee Martin | 5 [ 9 3 2 – 16/ 307.46 ] |
| 4 | 4 | Neil Cragg | 5 [ 3 2 5 – 16/ 307.70 ] |
| 5 | 3 | Ben Smith | 6 [ 2 10 4 – 16/ 303.92 ] |
| 6 | 8 | Josh Holdsworth | 12 [ 4 8 9 – 16/ 312.13 ] |
| 7 | 9 | Luke Holdsworth | 12 [ 7 6 6 – 16/ 312.28 ] |
| 8 | 6 | Matthew Peters | 13 [ 8 5 10 – 16/ 310.72 ] |
| 9 | 7 | Ben Pugh | 13 [ 6 7 7 – 16/ 313.97 ] |
| 10 | 10 | Daniel Pole | 17 [ 10 9 8 – 15/ 300.69 ] |
So all in all a fantastic weekend for the Hall Brothers. Two TQ's and two overall wins to them in just one weekend – you can't do more.  The Hall's wins keeps the overall 2wd battle very close between Tommy and Neil Cragg. Tommy Hall has a 3 point advantage over Lee Martin in the 4wd series.
BRCA 2WD 1/10th Offroad National Championship Standings
| | | | | | | | | | |
| --- | --- | --- | --- | --- | --- | --- | --- | --- | --- |
| Pos | Name | Formula | Score | Rnd 1 | Rnd 2 | Rnd 3 | Rnd 4 | Rnd 5 | Rnd 6 |
| 1 | Neil Cragg | F1 | 260 | 131 | 129 | – | – | – | – |
| 2 | Tommy Hall | F1 | 259 | 128 | 131 | – | – | – | – |
| 3 | Jamie Hall | F1 | 252 | 129 | 123 | – | – | – | – |
| 4 | Ben Smith | F1 | 252 | 125 | 127 | – | – | – | – |
| 5 | Ben Pugh | F1 | 252 | 126 | 126 | – | – | – | – |
| 6 | Josh Holdsworth | F1 | 251 | 123 | 128 | – | – | – | – |
| 7 | Luke Holdsworth | F1 | 251 | 127 | 124 | – | – | – | – |
| 8 | Lee Martin | F1 | 246 | 121 | 125 | – | – | – | – |
| 9 | Edward Callan | F1 | 245 | 124 | 121 | – | – | – | – |
| 10 | Charlie Saunders | F1 | 241 | 119 | 122 | – | – | – | – |
BRCA 4WD 1/10th Offroad National Championship Standings
| | | | | | | | | | |
| --- | --- | --- | --- | --- | --- | --- | --- | --- | --- |
| Pos | Name | Formula | Score | Rnd 1 | Rnd 2 | Rnd 3 | Rnd 4 | Rnd 5 | Rnd 6 |
| 1 | Tommy Hall | F1 | 260 | 131 | 129 | – | – | – | – |
| 2 | Lee Martin | F1 | 257 | 129 | 128 | – | – | – | – |
| 3 | Jamie Hall | F1 | 256 | 125 | 131 | – | – | – | – |
| 4 | Neil Cragg | F1 | 255 | 128 | 127 | – | – | – | – |
| 5 | Ben Smith | F1 | 252 | 126 | 126 | – | – | – | – |
| 6 | Josh Holdsworth | F1 | 248 | 123 | 125 | – | – | – | – |
| 7 | Luke Holdsworth | F1 | 246 | 122 | 124 | – | – | – | – |
| 8 | Charlie Saunders | F1 | 244 | 124 | 120 | – | – | – | – |
| 9 | Ben Pugh | F1 | 242 | 120 | 122 | – | – | – | – |
| 10 | Matthew Peters | F1 | 237 | 114 | 123 | – | – | – | – |
Quelle: www.racewayone.com