Das Kick Off 2017 R1 in Helmond gewann am Wochenende Bart MULLINK, der einigen von Euch sicher von dem Adventscup im Czypu-Drom und anderen internationalen Rennen bekannt sein wird. Vor Ort war der Däne Bjarne Høllund und kommentierte das Event. Vor Ort waren auch ein paar deutsche Piloten und zwei schafften den Sprung ins Finale OR8. Dies waren Justus GIESE und Stefan PETRICH. Die Ergebnisse findet ihr im weiteren Bericht von Xray.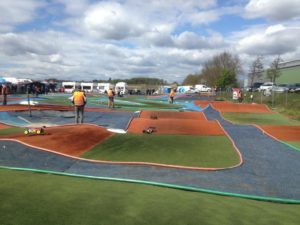 Englische Version
XB8 On Podium At Kick Off 2017 Helmond R1
Kick off 2017 Helmond
the first nitro race is as always the kick off in Helmond at Mach-one, it is a realy nice high grip astro-turf track. With 115 registrations form the Netherlands, Germany and Belgium it was busy.
On Friday we practiced and changed the set-up because we had too much grip. We chose for the FX-K3 engine with the 2131 muffer because it gives a smoother performance.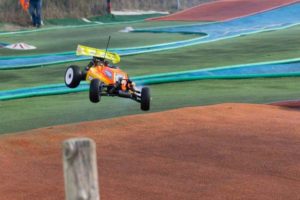 On Saturday we had 2 timed trainings and 2 qualifications but it was raining and the track was wet so we had to change the set-up again.
Sunday we had the last qualification and I got the 5th time so straight to the ½ finals so we had tot wait til 16:00 for the ½ final. We changed some things in the set-up but it didn't work and I finished 4th.
For the final we changed the set-up again and with the warm-up the car felt good. I started on 7th position and with the start I was able to pass 2 cars. The whole 30 minutes where a nice fight for the 3th position with Jordi Velder took place but I was able to take the 3th place.
I am very happy with my XRAY XB8, my FX engines both on clay and Astro-turf.
I would like to thank my sponsors
XRAY/RC-connect-FX-HUDY
RMV Deutsland –hotfire-power HD
MRV Valkenswaard.
And of course my parents
Next thursday we leave to Bischopsheim (DE) for a international race and after that we have the first race for the Dutch championship in Helmond.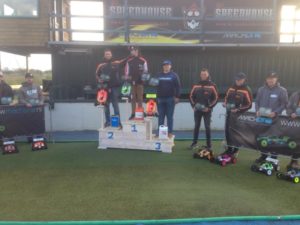 Bart MULLINK – NLD – Agama – Bullit B221
Jeffrey HALSEMA – NLD – Serpent srx8
Jarno PIJPERS – NLD – XRAY XB8 – FX
Jordy VELDER – NLD – Serpent srx8 – Reds
Justus GIESE – DEU – Mugen MBX
Sander VAN GENECHTEN – BEL – XRAY XB8 – FX
Rene VAN SCHAIJK – NLD – Mugen MBX – Reds
Thomas MÖTHE – DEU
Stefan PETRICH – DEU – Sworkz
Robin MAAS – NLD – Serpent srx8
Quelle: teamxray